NOTE
LDX Community is an independent entity. We are not affiliated with LearnDash and do not provide official LearnDash support of any kind.
This page is intended to…
explain how LearnDash support works
provide some help if you can't login to your LearnDash account
provide contact information for LearnDash so you can get the help you need
help with any other issues related to opening a LearnDash support ticket
If you'd like community-powered support, you can always post a question in our general forum. A free account is required to post. Sign up here →
LearnDash Documentation
Some questions can be answered by reading the LearnDash documentation. You should check there first, before opening up a ticket.
LearnDash Support Days & Hours
LearnDash only guarantees support Monday-Friday, 7AM-4PM (Eastern Time).
They are closed on weekends and most commonly celebrated US holidays:
January 1
January (3rd Monday)
February (3rd Monday)
Easter Monday (the last one in March or the 1st or 2nd one in April) how it's calculated
May (last Monday)
July 4
September (1st Monday)
October (2nd Monday)
November 11
November (4th Thursday)
December 25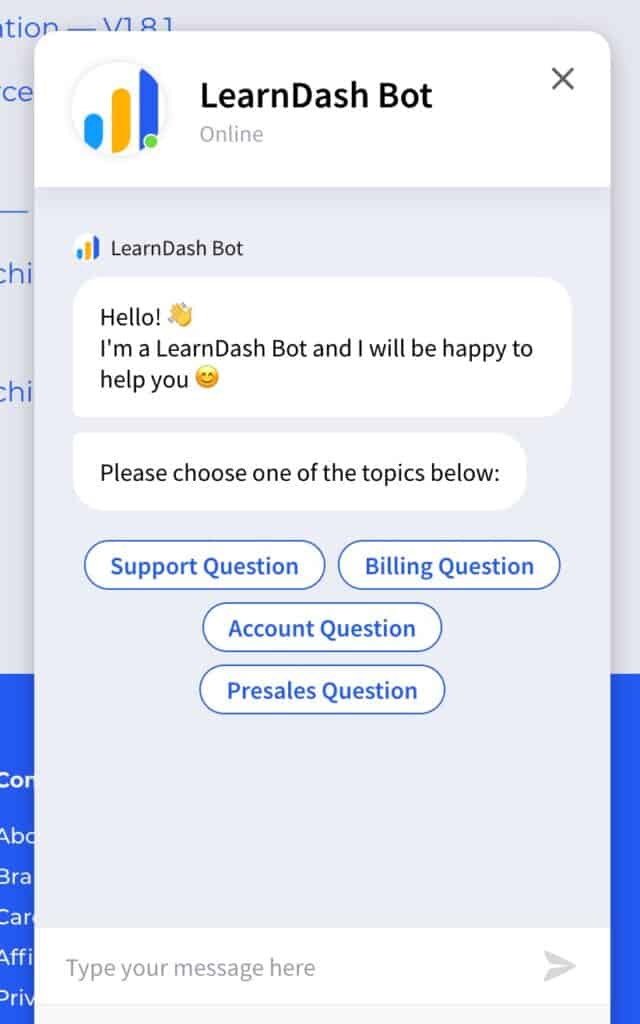 LearnDash ChatBot
In November 2021, LearnDash started experimenting with a chatbot on it's support site. It's 100% automated so don't expect a real human, but it might help you find the right documentation article that you're looking for. For more complicated, unique or specific site-related questions, it will likely just tell you to open a support ticket.
We'll see if this service improves over time.
Contacting LearnDash Support
Currently, LearnDash only provides support via a ticket system. There is no way to manage your tickets online, but you will receive an email each time your ticket is updated with a response. Basically, this means email support.
LearnDash does not provide live chat or phone support.
Before you create a ticket, you might want to check our LearnDash bugs page to see if your issue is a known bug. We try to keep that updated with fixes as well, including the version in which the bug was fixed, and the date it was released.
Create a LearnDash Ticket
The best way to create a new LearnDash support ticket is by going to support.learndash.com, logging into your account, and clicking the "Contact Support" button. Or go directly to this URL.
Scroll down a bit until you see Open Support Ticket. Just below that, you'll see a form. Fill out all the required details of the form to open your ticket.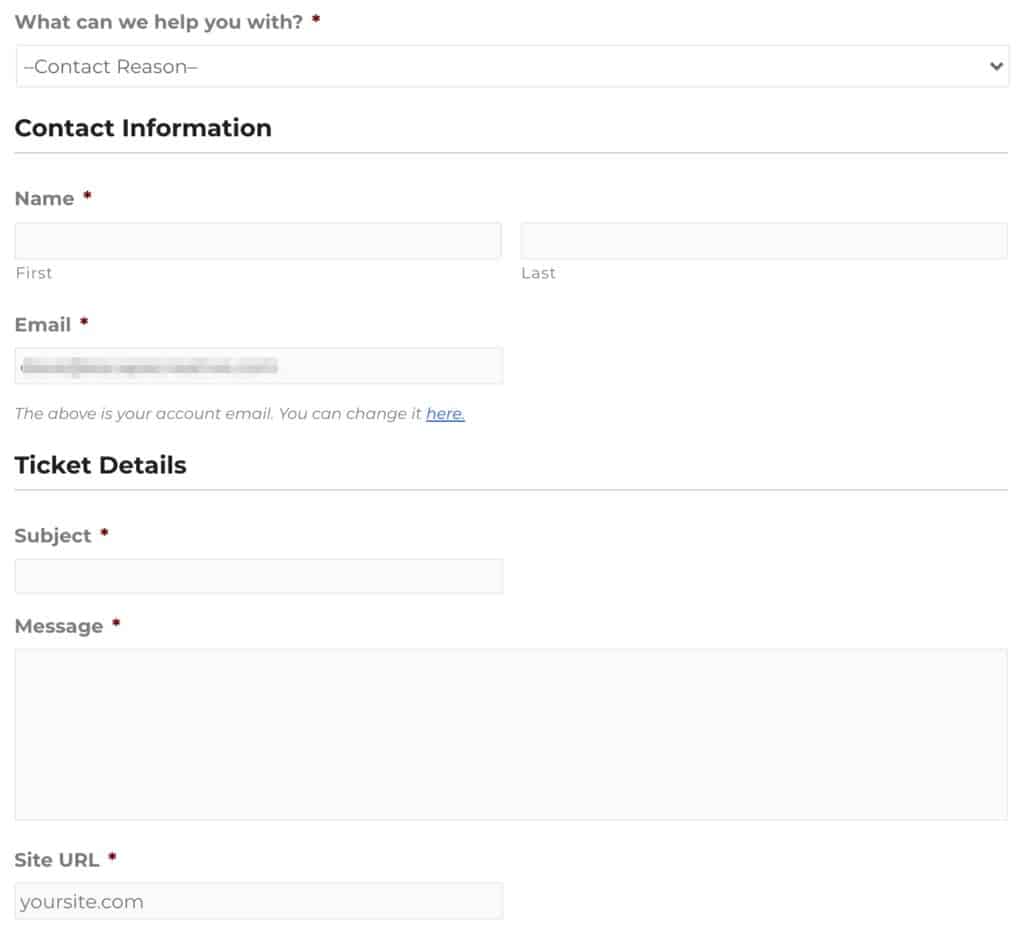 Version Numbers
Depending on the type of support you request, LearnDash might ask you to provide version numbers for the LearnDash plugin, and for WordPress itself.
Your WordPress version number can be found on your Dashboard, when you first login to your WordPress site. Look for the "At a Glance" widget.

Your LearnDash version number can be found at LearnDash LMS > Settings > Support
System Info
While not required, you can help LearnDash out by providing your System Info. This gives LearnDash a better picture of exactly how your site is set up, the theme you're running, which plugins you're using, some basic server information, etc. All of this can play into different errors or issues you might be experiencing, and help LearnDash help you.
Navigate to LearnDash LMS > Settings > Support
Scroll down and look in the right column for Copy System Info
Click the Copy button
When creating your ticket, paste this information at the bottom of your message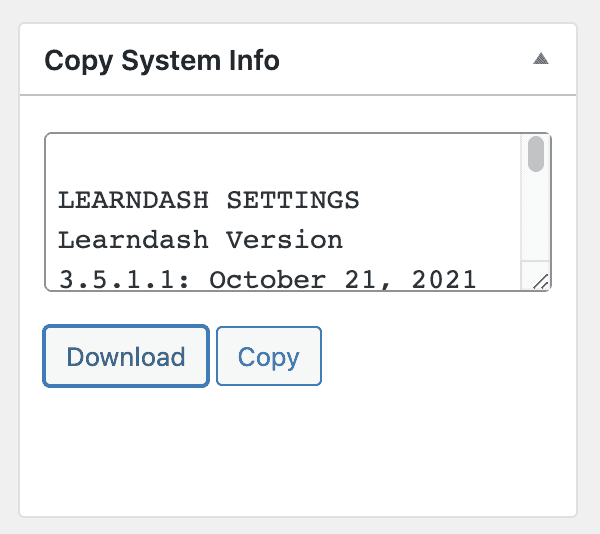 Can't Access Your Support Account?
If you didn't receive an email when you purchased LearnDash that contained your login information for the support site, or you lost your password, or you just can't login for whatever reason, you can try resetting your password. Use the link below, along with the email address you used when you purchased LearnDash, to try to reset your password:
https://support.learndash.com/wp-login.php?action=lostpassword
Email Support Directly
If you can't login to your account, or have trouble opening a ticket through the support site, you can email support directly at support@learndash.com. This will essentially create a support ticket for you in their system.
For billing related inquiries, you might get faster support by emailing billing@learndash.com.
Next Steps
After you open a LearnDash support ticket, you will be sent an automatic reply from their ticketing system. Hold on to this email. It provides a confirmation that your ticket was created, and is your best way to communicate with LearnDash about the specific issue.
If you need to provide additional information about your issue, you can reply to this email.