If you're looking to make a video course, there are several things to consider before getting started. One is the length of the course – do you want it to be one long video, or many shorter videos? Do you need to provide extra materials for students such as handouts or worksheets? You'll also need to spend some time on the structure of your course: is there a particular order in which students should watch each video? What will they do after watching each video? These are all important questions that must be considered when starting an online course.
What is a video course?
A video course is a course that is offered in an online platform that includes video content. Video course content may be delivered through a single video or broken up into several videos. Video courses often include copies of the transcript of the video or written content to support the information provided in the video.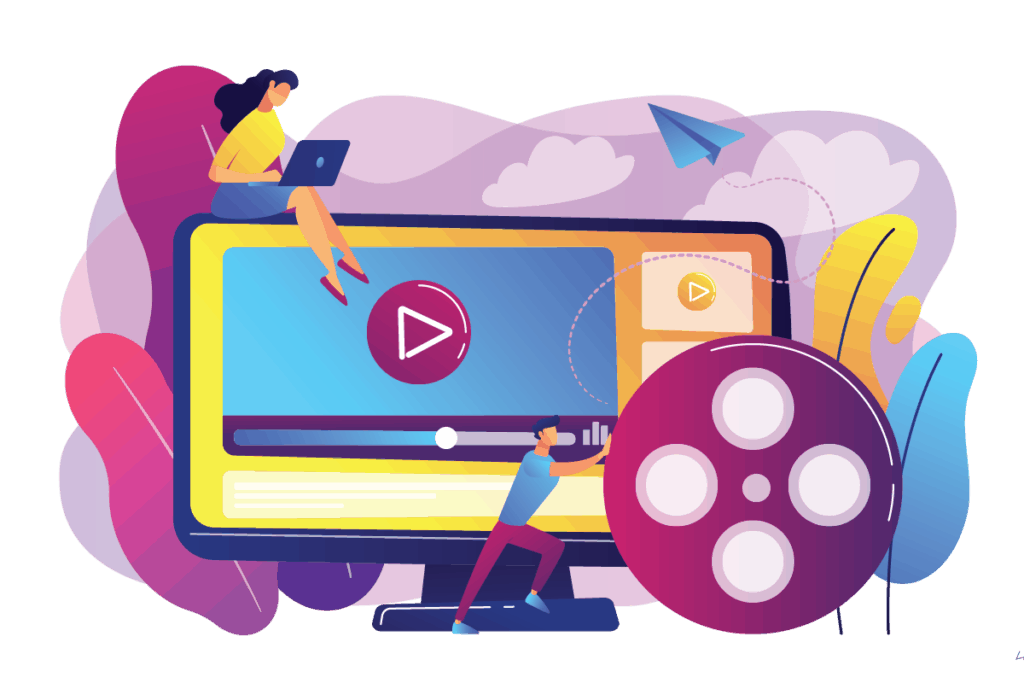 Tips for making an effective video course
–Keep your videos short in order to accommodate short-attention spans and to allow for activity switching which can help keep users engaged. Videos should be less than 10 minutes, ideally only 4-6 minutes. People on any type of device, are used to almost constant clicking. You risk losing their interest if your users sit still with no movement needed for long periods of time. Simply create a series of shorter videos to cover the same amount of content that would be in your longer videos. Also, consider the complexity of the material and make sure your students aren't overloaded with the content in each video.
–Provide a clear structure to the course. Users will want to know what to expect, so make your titles sexy, but also make sure they give an accurate glimpse of what to expect in the flow of your course.
–Only cover one topic per video. If you are going to make more than one video on the same larger topic, it will be easier for viewers to follow if you put them in order in the course, with each separated into a different lesson, so that students aren't overwhelmed.
-If possible, offer alternative resources such as handouts or worksheets that students can have to make notes on during and after they watch a video.
-Avoid having distractions in the video by keeping your screen and any other windows out of view.
-Make sure content is concise, relevant, and focused on goals – don't use videos as standalone activities, students need some type of activity to internalize what they have learned
Steps for creating a video course outline and script
1. Identify your topic and audience: What do you want to teach? Who will be watching?
2. Develop the content for each video: Remember that in a video-only course, there's no room in between videos for students to take notes or review previous material so make sure they can follow along from beginning to end. (Check out the Tips for Making an Effective Video Course section above to learn more.)
3. When you write your script for each video try writing out what you would say in a face-to-face conversation and then go back and refine it as necessary. If you are nervous about recording yourself, imagine your best friend's face (or your most eager student's face) in place of the camera. You want to be relaxed and speak naturally, with a normal, conversational cadence and intonation.
If you are a better speaker than a writer, then it might be helpful to make your video and then use that as the guide for writing your script.
4. Once you've finished making your video(s), create a transcript using tools such as Amara or Rev for Mac. Transcriptions are important because they allow students who may be hearing impaired, or who may have trouble listening to the audio on their devices, to follow along with the course.
How to record, edit, and publish your videos
Recording your videos
1. Find a Location – find a place to record that is as quiet as possible and won't be too distracting in the background. You don't want to be worried about focusing on what you're teaching when you're trying to record your video.
2. Get equipment set up– before you start recording, make sure any cables or wires are hidden and that all equipment is powered on and ready to go.
3. Start recording– you'll want to keep an eye on the audio/video with your camera so it doesn't get out of sync with the audio being recorded onto the computer (this happens more often than you think!), so watch carefully for cues from your camera's light or a visual alert in your editing software to let you know when you're recording.
4. Clean up your recording afterwards– once you've finished recording, make sure to clean up any audio issues (like moving around and making noise) or sync problems with the video and audio tracks before uploading your videos anywhere.
Editing your videos
1. Make a rough cut of each video– If you are using a video editing program, use it to do a rough cut of each video. You will probably find that you still need some touch up after making the initial edits, but this will help you identify sections that may not be working well and allow you to quickly get through the rest of the video without having to start over in case you run out of time.
2. Check video for audio syncing issues– If you are using software to edit your videos, make sure the audio on each video is in sync with what you are saying. Most programs will allow you to automatically detect when there are timing errors and fix them (allowing you to jump through parts of the video frame by frame until they are synced).
Be sure to re-sync after making any edits.
3. Edit audio and move around clips in your video editing program – you can only do so much with basic cuts when making a video, but it's easy to spend hours or days trying to overdub voices, cut and paste clips to change the order in which they appear, or add other effects. But unless you have a very advanced video editing program, it's usually better to just keep things simple and try to find the best possible shot of each element in your video rather than spend a lot of time watching tutorials online for how to make amazing edits with your software.
Publishing Your Videos
Once you're all done, you will need to determine where you will host your videos online. If you are selling your online course through your own website, you will need to host your video somewhere other than your site and share it in your online course by embedding it. You can choose free plans or paid plans from various providers depending on your budget.
For an optimal online course experience, you will want to embed the video on your website as opposed to providing a clickable link to the video that takes your users off your website. For online courses, you want your user to stay on your site, and inside your course.
Strategies for promoting your online course
Now that you have launched your online course, it's time to figure out ways to get people excited about it. There are a few different ways in which you can do this and we'll go over a few of them below.
1) Be active on social media – when someone follows you on social media, they are often interested in the services or goods you offer. Use your social media account(s) to post content related to the subject of your course. You can also share links to other useful resources for readers.
2) Create a professional presence – create an attractive website for yourself and make sure to list your contact information somewhere prominent on it so that potential students know how to reach you with questions about your services.
3) Embed your online course on other sites – this will allow you to gain exposure to audiences outside of your own niche and hopefully help bring in more students interested in your course.
4) Advertise your course – Pay per click advertising can be very effective, particularly if you have a budget large enough to get you into the top of the first page when someone searches for 'online course'.
5) Send notifications to your email list – if you have an email list or newsletter, use it to send out a notification that your online course is now available.
6) Add calls-to-action in all of your content – add a call-to-action to all of your blog posts, social media posts, videos and other online content that will direct people back to the site where they can sign up for your online course.
Video courses can be a great way to reach your target audience and provide in-depth content that you couldn't cover otherwise. In this blog post, we explored the various steps involved with making an online course. From deciding on the length of videos, to editing them together into one cohesive unit, it's important not to overlook any detail when planning out your course outline or script before starting production. Once complete, there are several strategies for promoting your video course so that people stay engaged with what you have created as they progress through each lesson.
If you want help implementing these tips and strategies or need advice from someone who has made a successful video course before, join our learning design community today! Our community is ready and waiting to partner with you every step of the way!