Chris Lema announced today that he's leaving the Nexcess/Liquid Web/StellarWP team. He accepted a job at a faith tech company where he'll be leading teams to build mobile and SaaS apps for ministry in the US and missionary care globally. April 20, 2022 is his last day on the job.
This means he will no longer be the General Manager of LearnDash.
Zachary Tirrell
On Thursday, April 21, 2022, Zachary Tirrell announced in the LearnDash Facebook group that he is taking over for Chris as the new General Manager of LearnDash. Zachary briefly explained that Liquid Web/StellarWP uses the term "General Manager" in lieu of CEO, but essentially, he is the one in charge of LearnDash moving forward.
Zachary has 10 years of experience in higher education technology, and has been the General Manager of The Events Calendar plugin for 7 years. The Events Calendar is also owned by Liquid Web/StellarWP.
Here is Zachary's post, in full:
Hey all. As you may have seen, Chris Lema announced yesterday that he's going to be leaving his role as General Manager of LearnDash. I'd love to take this opportunity to officially introduce myself I couldn't be more excited about jumping in here, it's an opportunity to combine my 10 years in higher education technology with 7 years leading The Events Calendar.

I'm thrilled to be working closely with Jack and Kasia, who continue leading product and support teams. We are doing amazing work at LearnDash and I'm so pumped about everything the team has been working on. Expect more great things from the LearnDash team.
---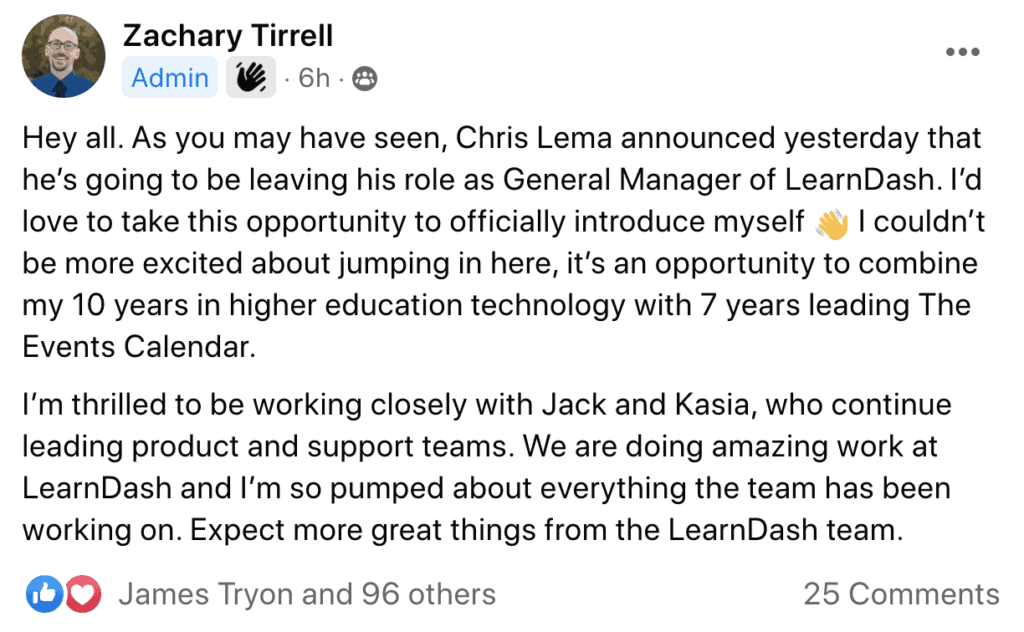 More About Zachary
Used to work for Modern Tribe, the original creators of The Events Calendar
Participated in a few mergers & acquisitions while at Modern Tribe
Is part of Liquid Web's mergers & acquisitions team
Watch Zachary discuss how he helped Modern Tribe to prepare The Events Calendar for sales, and talk about how Liquid Web approaches mergers & acquisitions.
Remind Me
Chris Lema took over as the General Manager of LearnDash back on Sep 20, 2021 when Liquid Web acquired LearnDash. Justin Ferriman, the cofounder and former CEO of LearnDash, stayed on as an advisor for an undisclosed amount of time after the acquisition.